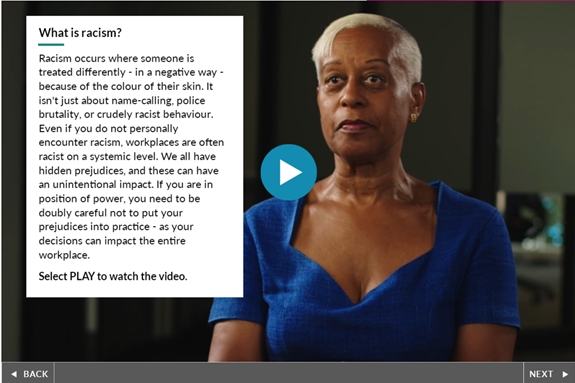 Let's talk about race in the workplace
On Demand £25 per person
Our 'Let's Talk About Race in the Workplace' course has been designed to persuade learners that racism is not just about explicit racist language, abuse or discrimination, it can take the form of inequality and inadvertent bias ingrained in the way organisations and society is run.
The course will further persuade learners that they need to consciously and proactively address racial bias in their organisation.
'Let's Talk About Race in the Workplace' is up to date and uncompromising in setting out the facts and thinking around systemic racism in organisations.
The primary audience for this course is first-line managers through to board level leaders or could be used by anyone in the organisation.
The course is split into five parts:


Systemic Racial Biases vs Explicit Racist Behaviour - An exploration of these behaviours and how they may manifest in organisations


Unconscious racial bias - A brief introduction to this topic and how it can impact on racial inequality in the workplace.


White Privilege - Focuses on the aspects of white privilege that relates to the workplace.


Racial microaggressions - Typical examples of racial microaggression found in the workplace


Tokenism - Superficial responses by employers to avoid real action and mask inactivity.


Select number of people
Price £25 For 1 person
to start your purchase simply click buy now