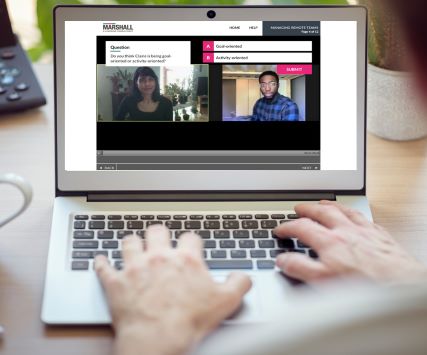 Future Ways of Working
On Demand £20 per person
Since the start of the lockdown, many of us are adjusting to our new reality of working and managing teams from home. With this brings many new challenges, some practical, some psychological and others that are slightly less obvious.  Developed during the lockdown, this suite of courses draws upon the direct experiences of the team and Subject Matter Experts, who collaborated remotely to bring you all the information you need to be an effective team leader.
The course brings the learning to life through innovative use of dramatized video scenarios using remote meeting software to show learners how best to utilise software to communicate, lead and meet productivity goals. Due to the social distancing policy, our actors filmed themselves in their own homes using software on the computers, lending additional authenticity to the scenarios in which our characters find themselves.
The course covers the following topics:
Module 1: Working from home


Creating new routines that maximise your productivity


Considerations for setting up your workstation


Appearance


Ways to balance competing distractions in the home


Module 2: Managing Remote Teams


Key principles


Ways to clarify expectations


Identifying how to be goal orientated rather than activity orientated


Methods and means of communication from a distance


Best practice when hosting conference calls


Module 3: Leading in uncertain times


Understanding VUCA


Using VUCA to identify the best approach that works well for your team


Crucial leadership attributes in uncertain times


Creating psychological safety and psychological capital


The OSKAAR model


Things leaders can do to help people in uncertain times – The four P's


How to deal with negativity


Push and Pull styles


How to develop resilience in yourself and others


Module 4: Wellbeing for All


The pillars of wellbeing


Looking after your body


Emotional Wellbeing


Caring for others


Mental welfare of your team


Ways to keep your team social


Now two modules on Returning to Work and Re-adapting to the Workplace have been added to the toolkit to provide a comprehensive resource.
Select number of people
Price £20 For 1 person
to start your purchase simply click buy now